Bar Fly, 166 2nd Avenue, Nashville, Tennessee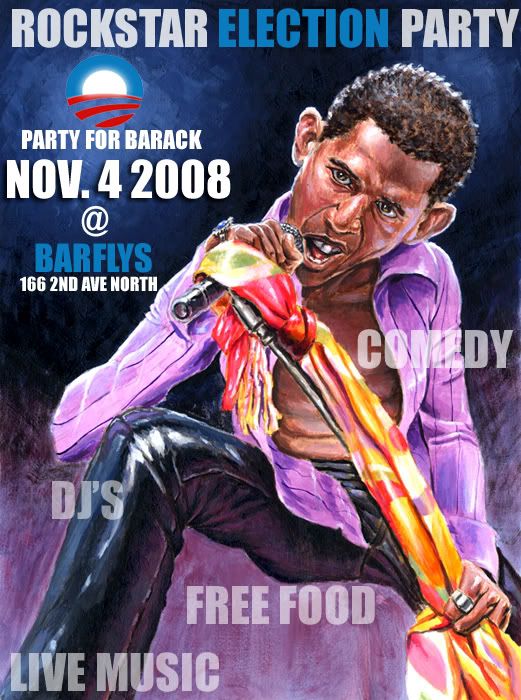 ELECTION PARTY at BARFLYS
The Biggest Election Party
is going down this
Tuesday November 4, 2008
at BARFLYS
As we embark on this historical day lets all make an effort to come together for this monumental moment and
PARTY FOR BARACK!!!
LIVE MUSIC PROVIDED BY JJ LEE AND THE INCROWD-
PERFORMANCES BY MARIO MOORE, TYPHANEE, GRAMMY-AWARD
WINNING PRODUCER SHANNON SANDERS AND MANY MORE!!! 6
DIFFERENT DJS, 3 COMEDIANS, FREE FOOD BUFFET AND PARTY FAVORS...3 DOLLAR OBAMA-MAMMA'S ALL NIGHT LONG.
SO COME
ON OUT AND LETS PARTY LIKE SOME ROCKSTARS FOR THIS STAR-
STUDDED AFFAIR..
THIS PARTY IS ENDORSED BY: Voting Is Priceless, REGAL
ENTERTAINMENT, LOVENOISE, TBANKS PROMOTIONS, SWETT'S AND
SO SO FLY ENTERTAINMENT...

Age limit: